Slipform Engineering has won two prestigious awards in a virtual ceremony celebrating the construction industry's elite specialists.
The business – the only UK specialist design and build contractor delivering innovative slipform technologies – was awarded Project of the Year by a Specialist Contractor (subcontract up to £2m) and Equipment Specialist of the Year at the Construction News Specialists Awards 2020.
Entrants were judged on business performance and more than 60 of the industry's leading contractors, clients, consultants and industry influencers judged the winners.
Slipform Engineering's Project of the Year entry showcased its work to deliver a 60m deep watertight secondary lining for the Chambers Wharf shaft, part of the huge Thames Tideway project to improve London's sewerage system.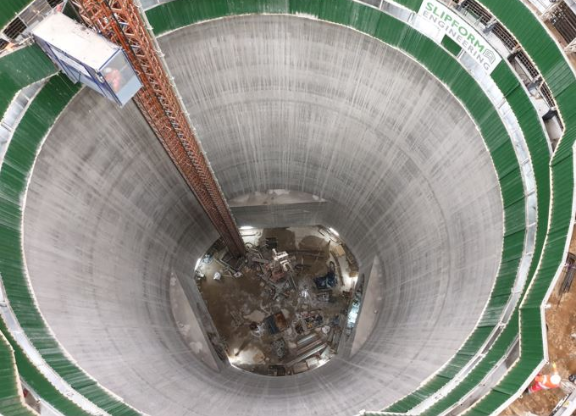 It detailed value engineering solutions provided to meet the client's requirements and how challenges were overcome.
The judges said: "This project blew us away. The judges were unanimous that this was the winner. People, process and technology all scored 10 out of 10. Pioneering in its field – a business with a really bright future."
Meanwhile, Slipform Engineering's entry for Equipment Specialist of the Year featured biomass silo construction projects at the Port of Hull and Drax Power Station; bespoke equipment hire and rig operator provided for various contractors all over the UK; the use of innovative software to allow clients to view work live; and in-depth pre-construction provision.
The judges said the company's applied "fantastic use of technology" and had a "can do attitude" with "total commitment to safety".
They added Slipform Engineering was "passionate about what they do and are doing it very well".
Eamon Hanley, Managing Director of Slipform Engineering, said: "It's great to receive this industry recognition for the technological and design innovations we have brought to the construction sector and the benefits delivered to our clients' projects.

"We're passionate about delivering a first-class service to our clients, overcoming the challenges of slipform construction projects and delivering exceptional standards of safety, quality, efficiency and control.

"We've always strived to be the very best at what we do and winning these awards is testament to our performance as measured against the industry's leading specialist contractors."
The awards were due to take place at Grosvenor House Hotel in London in March this year, but were postponed to November 17 and moved online due to Covid-19 restrictions.
The UK's leading specialist contractors, as well as influential companies and suppliers from across the construction industry, were shortlisted in 20 categories for the event hosted by Construction News Head of Content Zak Garner-Purkis and comedian and author Ian Moore.
Zak said: "2020 has been a real test for everyone, but the construction industry and its specialists have shown incredible resilience, as ever. More than that, you've been inspiring.

"As this year draws to a close, I think many people are grateful to work in a sector with a positive outlook for the future."
Watch the video below to find out more about the Chambers Wharf project or for full details of the Construction News Specialists Awards 2020 go to https://specialistsawards.constructionnews.co.uk